Search Engine Optimization, more commonly referred to as SEO, is the process of optimizing a website through a series of techniques to help your web pages rank higher in search engine results pages (SERPs). SEO gives you the ability to reach people when they are searching for information related to what you do and the services you provide via search engines like Google, Yahoo, and Bing.
For entertainers and party professionals, if your business is not showing up on the first page of results, clients won't be able to find you and request your service for their event - they'll likely reach out to someone else who is appearing on that first page. At a minimum, 75% of clicks go to the first page of search results, so it's essential to work on your site's SEO and start ranking higher.
In this section, we are going to focus on improving your organic search results ranking vs. paid search results ranking. SEO does not require any media spend and the results will be more valuable for your business down the road. Once you stop paying for ads, you disappear from search results. With SEO, the time and effort that you spend on improving your ranking will be more long-lasting and profitable - 70-80% of users ignore paid search results, choosing to only click on organic search results.
Paid search results vs. organic search results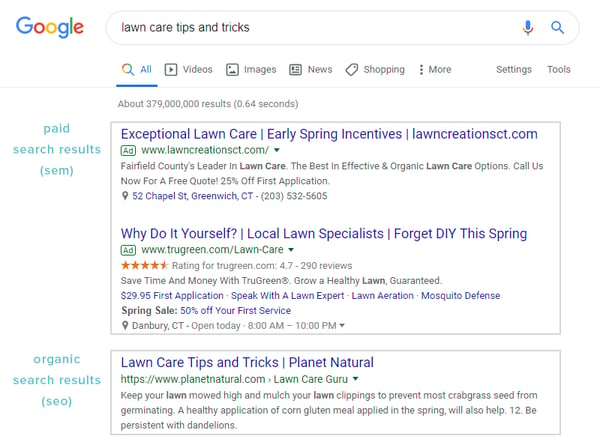 There are so many different factors that go into your company's SEO ranking and Google's algorithm is ever-changing (HubSpot's Ultimate Guide to Google Ranking Factors in 2019 does a great job at highlighting the important ones). We are going to focus on the top SEO must-dos for your local business ranking since most clients are performing localized searches when they are looking for an entertainer or party professional for their event.
Understand What's Going on in Search Results
One of the first things you'll want to do is to put yourself in the client's shoes and understand what's going on in search results. Although Google by default personalizes searches depending on the user and you won't always see the same results as others, it's important to see how your business is being represented.
What happens when you search your business in Google? Take a look at what type of pages come up, evaluate the copy in the results, and make any necessary updates to the copy if it's outdated or not appearing as you would like it to. You want to ensure that your business looks its best to clients who come across your business in search results.
Now, take a look at what happens when you search keywords around your business and location in Google - think about what a client would search to find your business. For example, if you are a cover band in San Diego, try terms like 'best cover bands in San Diego' and 'hire live band for wedding in San Diego.' Are you appearing on the first page of search results? What other results are you seeing? Compare your content to others that might be coming up higher and see what you can do better while keeping your content new and unique.
You should also update your your N.A.P. (Name Address Phone) across the web. It's an important signal when it comes to local business that should be accurate and consistent everywhere on the web. You can easily find where your business is mentioned by typing in: -site:yoursite.com "yourbusiness" in Google. (For The Bash, this would look like: -site:thebash.com "thebash"). Google will crawl the web and search all pages (except for your website) where you are listed or talked about so you can see if the information about your business is correct. If it's not, reach out to the source to get it updated.
Create Local Listings For Your Business
If you don't have local listings for your business already (Google My Business, Bing Places, Yahoo Small Business) get started on them now! It's one of the best things you can do to get your business to rank in local searches. If there's a listing out there for your business that you don't own, make sure you claim it. Once you gain access, complete as much information about your business as you can for each listing (hours, phone number, website, social media pages, service mileage, business category, etc.). You'll then want to try and get at least five 5-star reviews on your local listings. Reviews help boost local listing visibility in Google search and builds credibility with potential clients. Check out the 'Build Up Your Reviews & Testimonials' section further down in this resource to get some tips on how to boost reviews for your business.
Example of a local listing in Google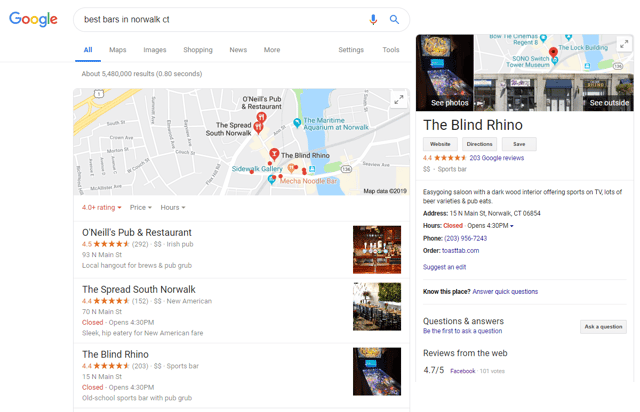 Measure the Results!
To see your site's historical data and get insights on how search engines interact with your site, use Google Search Console. This will help you understand how Google is crawling your site, if they're hitting errors, how often you're appearing in search results, your average keyword position, what keywords you're ranking for, and much more. You can do the same with Bing Webmasters Tools (Yahoo uses Bing). Once you claim your site, you'll be able to see 16 months of historical data.
You should also set up Google Analytics for your website - it's free! Google Analytics provides a ton of valuable, in-depth information about how users interact with your actual website, not just Google/Bing/Yahoo data. You can see real-time traffic data and where it's coming from (social, organic, paid, etc.), demographic data, and much more. Utilize Google Analytics Academy's free courses to learn more about how to use the tool - they have courses for both beginners and advanced users.
Piggybank on Other Ranking Sites
Improving your site's SEO takes a lot of time and testing. It's competitive and there are hundreds of ranking factors that Google uses in their algorithm. You will always be making tweaks and updates in order to improve and maintain your ranking. The key is to focus on good content that's relevant to what you do and aligns with what people are searching for.
If you don't have the time and effort to dedicate to SEO, attach yourself to pages that are already ranking high. If it's an article from a news outlet, reach out to them and see if they'll do an article on you or link to your page - backlinks are one of the most important ranking factors because they signal to Google that you're a trustworthy site and that others are verifying your content.
You should also look to piggyback on sites that are already ranking high. Online event marketplaces like The Bash have years of SEO experience that eat, breathe, and sleep SEO and stay on top of all the changes so you don't have to! Instead of having to focus your efforts on SEO, you can focus your time on getting booked, growing your social media followers, building up reviews, and on other strategic things that can help to grow your business.
Example of The Bash's SEO expertise

Having an online presence is no longer an option. If you don't have a profile or website for your business and active social media pages, you are losing out on so many potential clients. When looking for the best entertainers and party professionals for their event, clients want to be able to easily and quickly see your photos/videos and testimonials from your past clients.
Create a Professional Website
If you don't have some type of website or professional profile for your business, get started on one immediately. A web page for your business makes you look like a true pro to potential clients when they are researching your business and considering whether to reach out to you and book you. It also allows you to list everything about your business in one place, making it easy for the client to learn more about your service and easily contact you.
Tips for Your Website
There are many tools out there to help build a website for your business, some specific to your profession, but we recommend Wix - they offer a variety of templates and an easy-to-use (and free!) website builder to create your professional web presence.
No matter how you end up building your website, always keep these three tips in mind:
Gallery of photos and videos: Ensure you have a section of your site that features professional, high-quality photos and videos from past events. If you have any of you in action or of your happy clients, those are best! Just make sure you keep them up-to-date.
Make it easy to be contacted: It should be simple for clients to be able to message you. Whether it's displaying your contact information on your website or having a short form for them to fill out, make sure it's easy for them to find that page. Consider making 'contact us' a prominent link in the top navigation of your site.
Make it mobile-friendly: The majority of your traffic will likely come from mobile users, so make sure it's mobile-friendly. Google actually penalizes sites that aren't optimized for mobile devices. The good news is that most website creation tools like Wix automatically create a mobile-friendly version of your site for you!
Advertise Your Business
Another option that can be used in place of a website or in combination with it, is joining an event marketplace or booking platform like The Bash that already ranks highly and handles SEO for you. The Bash gives vendors everything they need to create a profile for their business just like a website does - you can add photos/videos, a bio, reviews, offers/packages, song list (if you're a musician), and much more. Plus, The Bash profiles look great on mobile! The biggest advantage is that entertainers and party professionals can get directly requested right through their profile, get booked, get paid, and get reviews all in one place. It makes it easy for both the vendor and client, and it's a lot faster and easier than creating and entire website.
Create a Social Presence
Don't forget about your business's social media pages! Decide on which platforms matter to your business and keep them updated - we recommend Facebook and Instagram for entertainers and party professionals because these platforms are the best for sharing photos from events. Once your profiles are activated, complete everything about your business, especially a description, profile picture, and link to your business's profile/website. Next comes content.
Here are a few social post ideas to get you started:
Client testimonials:

Create a template of what you want your client testimonials to look like. It can be a simple image with the client's quote in a color/font that matches your brand. Consider posting a testimonial on the first Tuesday of every month (#testimonialtuesday) to show potential clients that you provide 5-star service and that they can trust your service.
Past client events: Consider posting images and a recap from past client events. Even if the event is from earlier in the year, consider reminiscing abut the event on a #throwbackthursday.
Post at events: At your next event, take a picture of the venue, crowd or yourself and post them before or after the event. This not only shows potential clients that you are busy with events, but also brings the

client behind the scenes of your gigs.

Utilize your stories:

Getting ready for your Friday night event? Post a few photos or videos to your stories on Facebook and Instagram to give your followers a peek into what it's like getting ready for an event. You can even tag the venue that the event is going to be at and add relevant hashtags to help grow your followers!
---
A few of our favorite Instagram posts from The Bash members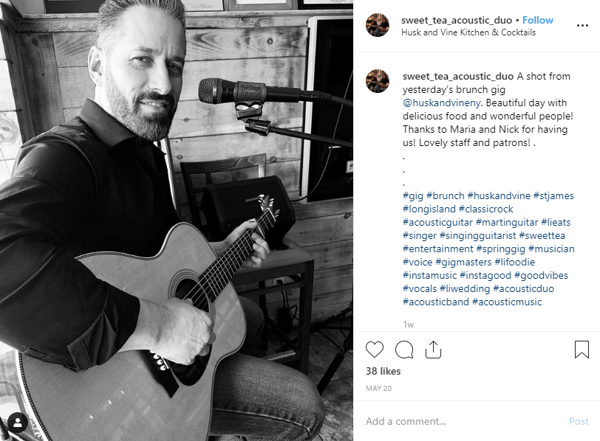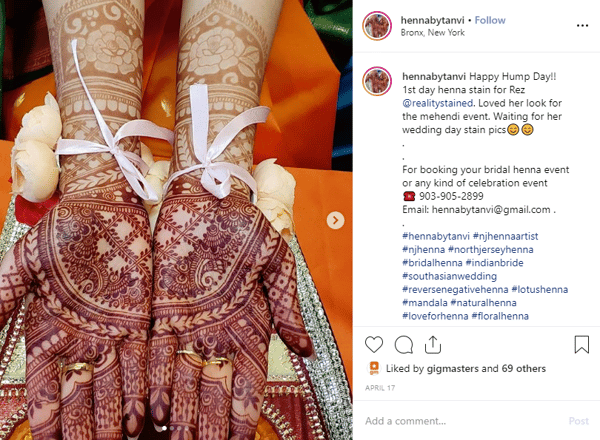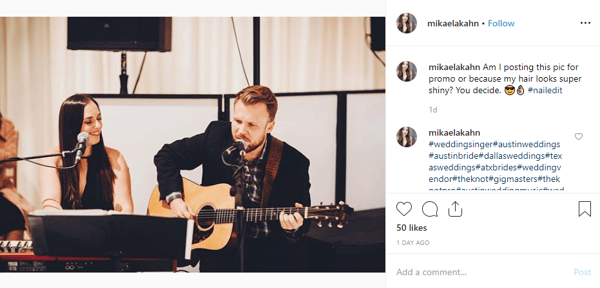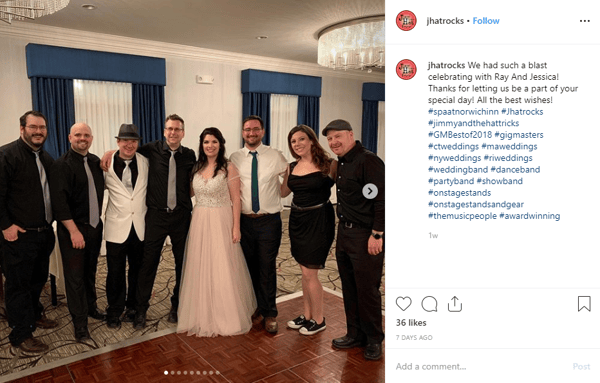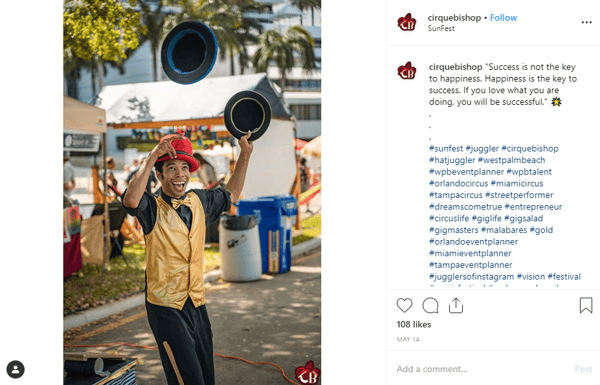 ---
Growing Your Social Media Followers
Now comes the more difficult part: growing your followers. It can take a lot of time and effort to grow your follower base, but there are a few simple things you can do right off the bat to increase your number of followers.
Utilize your social icons. Always include the icons in your email signature and add them to your personal website. This will help potential and past clients easily view and follow your pages.
Use relevant and popular hashtags for your business. Take a look at what some of your competitors are using for hashtags to get some ideas or just start typing in hashtags that you think are relevant to your business to see if they are trending.
Follow relevant users and accounts. When you follow another user, they'll likely check out your feed and if it's full of good, relevant content they'll likely give you a follow back.
Collaborate with others. If you provided your service at a venue or worked alongside other vendors, consider following them and tagging them in your post. You can also follow your clients and tag them in your post about their event.
Engage your followers. Ask a question to engage your followers or consider offering a special promotion for the first few followers that message you.
Tips for Posting on Social Media
If you're going to have a social presence, you have to be committed to keeping it updated and posting consistently. You don't want a potential client coming to your Facebook page to learn more about your business and seeing that the last thing you posted or the last review you received was from over three years ago. It's important to stay relevant and to look busy.
It can really help to create a rough schedule of what and when you want to post. Think about what events you have that month and brainstorm a few posts - this will help remind you of what you want to capture at each event and keep you on top of your posts. It's important to post regularly (at least a few times per week). There are several tools available to assist you in scheduling social posts across platforms to help automate the process - check out Hootsuite, Later, and Buffer.
Once all the effort you put into your site's SEO and on building your web/social presence, the leads will start flying in! Now comes the most important part - responding to your leads and converting them to clients. Although there's no exact science to responding to leads (every request is different), there are some tips and strategies you can use to improve your chances of getting booked. It all comes down to a lightning fast response combined with a detailed, personalized, and friendly quote.
Cut Down Your Response Time
In today's always-on and always-connected world, clients expect immediate responses. On The Bash, the top 100 booked members have an average response time of six hours and one out of every three bookings goes to the vendor who responds first.
Here are some easy ways to help you respond more quickly to clients' requests:
Create saved responses: If you find that you're constantly writing the same email to clients requesting a quote, consider saving a few of those common responses as email drafts or in a Word document so you can easily pull from them when a request comes in. All you'll have to do before sending it is add some personalization based on the client and their specific event.
Set up notifications: Ensure that you have notifications enabled for emails and social media messages. The quicker you see clients' requests come in, the faster you can respond.
Create auto-replies: If you know you're not going to be able to respond to a client in a timely manner (whether you're on vacation, at a conference, etc.), set up auto-replies so the client can expect when they will hear back from you.
Respond to Every Lead
Not available for the client's event date or they stated a budget that is below what you normally charge for your service? It's still important to respond to them and here's why:
If you're not available for their date: Thank them for reaching out to you and kindly let them know that you're not available for their event date. Let them know you'd love to be considered for any future events they may have. Why? Not responding at all leaves a bad impression - it's common courtesy to let the client know so they can continue their search and outreach to other vendors for their event. Also, they will be more likely to contact you again in the future or recommend you to a friend who is looking for a service like yours.
If they stated a budget that is outside your typical price range: Be flexible. Of course you shouldn't drop your rates significantly, but you should always try to at least work with the client to see if there is some type of alternative that would work for both of you. Also, clients aren't always aware of how much your service typically costs, so it's important to educate them and let them know why you charge what you do - mention your years of experience, past client reviews, your professionalism, and what's included in your price quote.
Perfect Your Quote & Response
Even more important than your response time, is your actual response to the client who is interested in booking you. You can respond quickly, but if your response isn't detailed, personalized and friendly, you could be hurting your chances of standing out from your competition and getting the gig.
Keep these tips in mind when you are responding to your next client:
Always begin your reply with 'Hi' or 'Hello' followed by the client's first name.
Thank them for reaching out to you and show you are excited for their event (always congratulate them if it's applicable to their event type).
Confirm that you're available for their event date.
Tell the client about your business and what makes you stand out in a few short sentences.
Include links to any websites or social media pages where you have photos/videos from past events and clients.
Provide a quote based on their event details and make sure to explain what is included in that quote. Ask follow-up questions, if needed.
Always offer to set up a time to meet with them in person or schedule a phone/video chat - FaceTime, Google Hangouts, Skype are all great tools if a meeting in person is not feasible.
Add a professional signature to the bottom of your email with all of your contact information. Consider also including links to your social media pages, sites where you have client testimonials or where your work is featured, and anywhere else that's relevant to your business's success.
Download this complete 'How to Respond Like a Pro' checklist.
---
The Bash sees thousands of messages sent by vendors to clients every day. We pulled the two examples below to demonstrate what you should and shouldn't be doing in your response back to the client.
Response Example #1: What not to do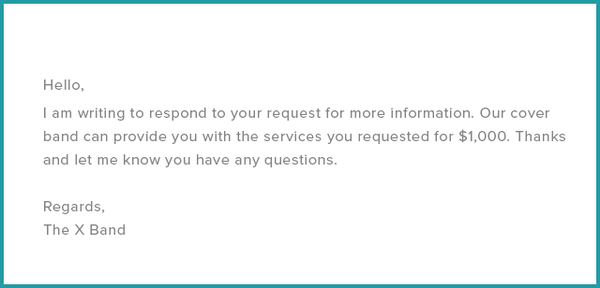 Response Example #2: What to do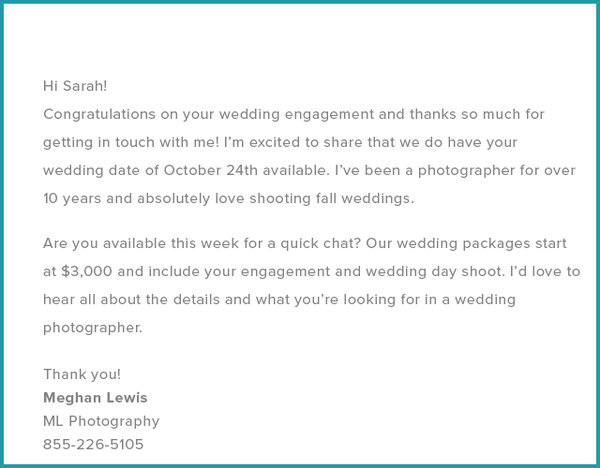 ---
Follow-up Best Practices
Ok, so you've perfected your response and you are responding to all clients (no matter what) at lightning speed. Now it's time to follow up with the client if you haven't heard back.
Why Follow Up
If you haven't heard back from the client, it's important to follow up with them because clients are often getting quotes from a few different vendors. Following up with a message and/or phone call helps set you apart from your competition and allows you to answer any questions the client may have about your quote, services, or past experiences. On The Bash, almost 40% of bookings are confirmed within 48 hours of a gig request being submitted.
When to Follow Up
The time frame and method of follow-up should be whatever you feel most comfortable with. At The Bash, we see anywhere from 24-48 hours after vendors haven't heard from a client, work best. You want to give the client some time to view your email and quote, but don't want to wait too long to allow another vendor to reach out before you.
How to Follow Up
If you have the client's phone number, a call works best because it allows you to better connect with the client, show them your personality and professionalism, and answer any questions they have about your quote quickly. Following up via text message or another email are also great and acceptable approaches. In the end, do whatever you're most comfortable with and what you find to be most successful. Just ensure you're following up in some way!
We live in a world of Amazon and Yelp - great reviews are essential for your business's success. Clients want to feel confident in their decision to book you for their special event and understand what it would be like to work with you. According to the 2018 Local Consumer Review Survey by Bright Local, consumers read an average of 10 reviews online before being able to trust a local business and 57% of consumers will only use a business if it has four or more stars.
How to Get Reviews
After an event has concluded, reach out to the client and simply ask if they will leave you a review. Chances are pretty good that they will - 67% of 18-34 year old consumers that were asked to leave a review for a business, did! Just make sure you reach out to your clients in a timely manner so the event and the service you provided is fresh in their minds. Timing, however, may vary depending on the event. For example, reaching out one day after a wedding or funeral is probably too soon - try two to four weeks instead. Whereas reaching out a few days after a birthday celebration or community event, is perfectly acceptable and recommended.
If the client doesn't answer your first review request, make sure you remind them by sending a friendly follow-up email or event text message! Most times, clients have every intention of writing a review, but just simply forget or have been putting it off.
---
Use this simple review request template and customize it depending on the event and your service:
Hi [FirstName],
Thank you again for choosing us to be a part of your special celebration. We loved working with you and hope to have the opportunity to work with you again in the future!
I was wondering if you would be willing to take a few minutes to to leave us a review regarding your experience. Your feedback would greatly help our business as well as future clients! The links to our sites where you can leave a review are below.
Google
Facebook

Thank you in advance!
[Professional Signature]

---
Helpful tip: When you find a review request template that you like and that seems to work, save it as an email draft! This will make it easier and quicker when reaching out to clients for their review. All you have to do is just copy, paste, and customize it depending on the client and their event.
Where to Get Reviews
We typically see these as the top three places to have clients leave you a review on:
Google My Business: The number of positive, 5-star reviews that you receive on your Google My Business

listing is one of the best ways to improve your ranking in local search results.
Facebook: Facebook is another important platform to have reviews on as around two-thirds of U.S. adults use Facebook these days! It's also one of the first places clients will look when researching your business to see your recent photos, posts, and reviews.
Online booking sites like The Bash: Online booking sites like The Bash make it easy to receive and feature reviews all in one place.

The Bash

also allows you to order your reviews in any way - so you can put your best and most recent ones at the top.
What to Do With Your Reviews
After receiving reviews and testimonials from your clients, there are a few things you should always do:
Always respond. It's important to always respond to your reviews whether they are positive or negative. Responding gives you the opportunity to showcase your personality to future clients. It also shows that you are responsive and value your clients and their feedback. It's even more important to respond to negative reviews because it gives you the opportunity to show future clients your side of the story and that you are taking the necessary steps to make sure it doesn't happen again - check out this article to get helpful tips on

how to handle a negative client review

.
Share them on social: Consider sharing your stellar reviews on Facebook and Instagram to spread the word! Create a simple template that features the quote from your client and upload the image to your social media pages.
Add them to your website: If you have a personal website, make sure you have a section where you can feature client reviews so potential clients can easily find and read through them. Don't forget to keep them updated with your most recent and best reviews.
---
As events pick up in 2021 and beyond, it's important to make sure your business is ready and set up for success. For additional tips, take a look at these 5 ways to prepare your business for events in 2021.